International Symposium "Amir Hamza and Beyond: Historical Narratives and Romances across the Muslim World"
2023.07.31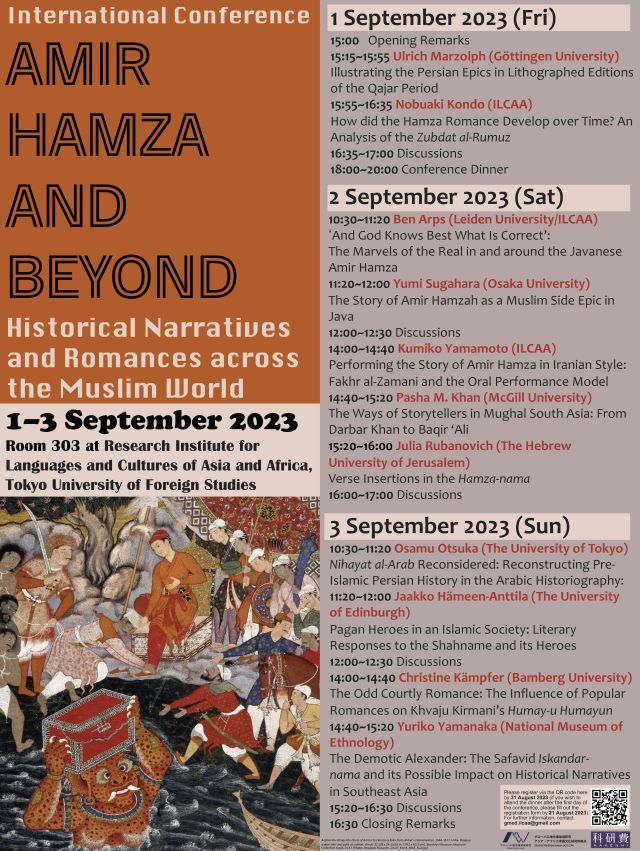 Date / Time
Fri 1st Sep 2023 15:00–17:00; Sat 2 Sep 10:30–17:00; Sun 3 Sep 10:30–16:30
Venue
Large Conference Room 303 (ILCAA)
Registration
Registration required. → Registration
Deadline: 31 August*
*:

If you wish to attend the dinner

after the first day of the conference, please fill out this form

by 21 August

.
Admission
Free
Language
English
Jointly sponsored by
Grant-in-Aid for Scientific Research(B) "A Multidisciplinary Study on Formation, Transmission, and Reception of Persian Historical Romances" (Principal Investigator: Nobuaki KONDO (ILCAA) Project Number: 20H01250), Global Mediterranean at ILCAA
Contact
gmed.ilcaa★gmail.com (Secretariat of the Global Mediterranean Project at ILCAA) Please change ★ to @.
Program
Fri 1st Sep
15:00
Opening Remarks
15:15–15:55
Ulrich Marzolph (Göttingen University)
Illustrating the Persian Epics in Lithographed Editions of the Qajar Period
15:55–16:35
Nobuaki Kondo (ILCAA)
How did the Hamza Romance Develop over Time? An Analysis of the Zubdat al-Rumuz
16:35–17:00
Discussions
17:30–19:30
Dinner
Sat 2 Sep
10:30–11:20
Ben Arps (Leiden University/ILCAA)
'And God Knows Best What Is Correct': The Marvels of the Real in and around the Javanese Amir Hamza
11:20–12:00
Yumi Sugahara (Osaka University)
The Story of Amir Hamzah as a Muslim Side Epic in Java
12:00–12:30
Discussions
14:00–14:40
Kumiko Yamamoto (ILCAA)
Performing the Story of Amir Hamza in Iranian Style: Fakhr al-Zamani and the Oral Performance Model
14:40–15:20
Pasha M. Khan (McGill University)
The Ways of Storytellers in Mughal South Asia: From Darbar Khan to Baqir 'Ali
15:20–16:00
Julia Rubanovich (The Hebrew University of Jerusalem)
Verse Insertions in the Hamza-nama
16:00–17:00
Discussions
Sun 3 Sep
10:30–11:20
Osamu Otsuka (The University of Tokyo)
Nihayat al-Arab Reconsidered: Reconstructing Pre-Islamic Persian History in the Arabic Historiography
11:20–12:00
Jaakko Hämeen-Anttila (The University of Edinburgh)
Pagan Heroes in an Islamic Society: Literary Responses to the Shahname and its Heroes
12:00–12:30
Discussions
14:00–14:40
Christine Kämpfer (Bamberg University)
The Odd Courtly Romance: The Influence of Popular Romances on Khvaju Kirmani's Humay-u Humayun
14:40–15:20
Yuriko Yamanaka (National Museum of Ethnology)
The Demotic Alexander: The Safavid Iskandar-nama and its Possible Impact on Historical Narratives in Southeast Asia
15:20–16:30
Discussions
16:30
Closing Remarks